Precise Home Renovations is proud to present the following home renovation and remodeling news and articles.
Always feel free to contact us for a Free Estimate.
Happy New Year to ALL!
the last few weeks we have been wrapping up a  few jobs and of course celebrating Christs birthday and the new year. We built and installed 2 kitchen benches with loads of storage inside. James and Liz really seem to like it. They were nice people to work for.
in the next few weeks we will be on a flooring tear.  we're going to refinish and install new hardwoods on 2 jobs and tile on another. seems like everyone wants flooring this month. Maybe i should run a flooring special?
Home Renovations & Remodeling Blog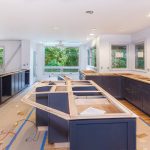 Home is the place where your heart is,' this is an adage, and indeed it is correct if you're not happy in the place where you are residing, it will leave an impact on both your physical and mental well-being. Therefore, it goes without saying that you must not live in a house that isn't…
Read More